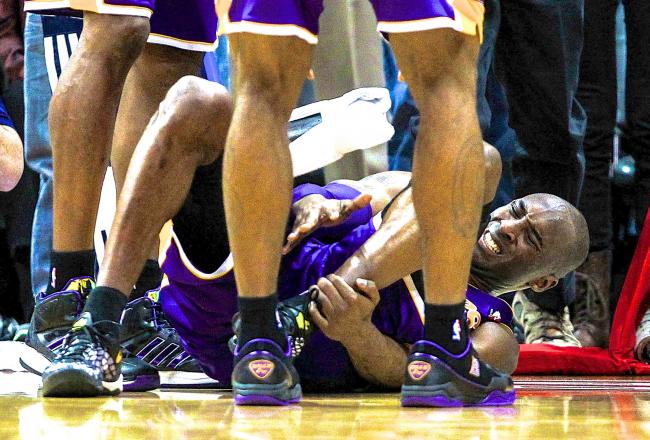 Kobe Bryant is out for blood.
Bryant severely sprained his ankle in the closing minutes of Wednesday night's 96-92 loss to the
Atlanta Hawks
. That means the
Los Angeles Lakers
will be without their top scorer indefinitely.
Bryant was attempting what would have been the game winning shot with 3.9 seconds left at
Philips Arena
in Atlanta when he landed on the foot of defender
Dahntay Jones
and landed on the court. Luckily X-rays are negative, but Bryant says it's the worst injury he's had since the
2000 NBA Finals
. That injury occurred when Bryant landed on the foot of
Jalen Rose
in Game 2 of the Finals, which the Lakers went on to win 4-2.
"First and foremost, officials really need to protect shooters. As defensive players you can contest shots but you can't walk underneath players. That's dangerous for the shooter," Bryant told reporters.
"He Jalen Rose'd me," Bryant said of Jones' play. "It's a very, very dangerous play, especially if I'm fading away. There's no rhyme or reason why I should come down anywhere near somebody's foot."
Jones later defended his play on
Twitter
, tweeting that he would never purposely try to injure any player. "Tape doesn't lie. Ankle was turned on the floor after the leg kick out that knocked him off balance. I would never try to hurt the man."
Jones said in a later post that the referees really should have called an
offensive foul
on Bryant. "Leg kick that makes contact with a defensive player is an offensive foul. Period. The
NBA
changed that rule 2 yrs ago. Stop it!," he said.
Bryant is tied for second in the NBA with 27.5 points per game and is also averaging 5.5 rebounds and 5.8 assists. He scored 31 points in the defeat on Wednesday. The loss dropped the Lakers to 34-32, eighth in the Western Conference and a half-game ahead of the Utah Jazz for the final playoff spot.
Bryant is unsure how the next couple of days are going to go. "I can't get my mind past the fact that I've got to wait a year to get revenge," he said.
Reference:
Bloomberg
If you are a basketballl player and have a foot problem, call our Newington, Kensington, or Middletown office to make an
appointment
.
Craig M. Kaufman, DPM
Connecticut Foot Care Centers
Sports Medicine Podiatrist in CT
Podiatrist in Newington
Visit our website, like our page on Facebook, and follow our tweets on Twitter.