He came out of retirement for this?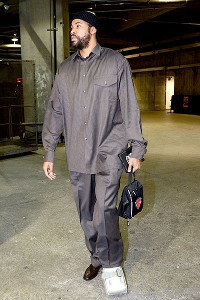 Rasheed Wallace
returned to the court for the
New York Knicks
after retiring two years ago and may never play basketball again after season-ending foot surgery.
He suffered a broken fifth metatarsal in his left foot and hasn't played a game since December 13th when he originally injured himself in a win over the
Los Angeles Lakers
. He had surgery last Thursday after a new X-ray discovered that he had a fractured fifth metatarsal. The time frame for his return is eight weeks, but that is unlikely to happen after such a long layoff.
"It's somewhat of a blow because he's gone through so much work to try to get back out on the floor and now this happens. The only thing we can do now is think positive in terms of how the surgery is going to turn out," said coach
Mike Woodson
.
In 20 games Wallace averaged 7.2 points and 4.2 rebounds per game on a Knicks team that is full of aging veterans. A four-time All-Star, Wallace averaged 14.4 points, 6.7 rebounds, 1.8 assists, and 1.3 blocks in 1,108 games (956 starts) over 15 seasons with Portland, Washington, Atlanta, Detroit, Boston, and New York.
Wallace was trying to get back to the team last month and a faction in the Knicks wanted to let the 38 year old go. But Woodson hasn't considered cutting the veteran.
"We know that the surgery was successful, now it's just up to him to rehab. He wants to play. That was the whole reason for bringing him. Unfortunately he's had this surgery. It happens. We didn't expect STAT to go through what he went through earlier in the year. The door is still open for Rasheed to come back and play. He's just got to put in the time and rehab and put in the time on the floor because he can help us in the long run," said Woodson.
References :
New York Times
and
ESPN
.
If you are a basketball player and have a foot problem, call our Newington, Kensington, or Middletown office to make an
appointment
.
Craig M. Kaufman, DPM
Connecticut Foot Care Centers
Sports Medicine Podiatrist in CT
Podiatrist in Newington
Visit our website, like our page on Facebook, and follow our tweets on Twitter.