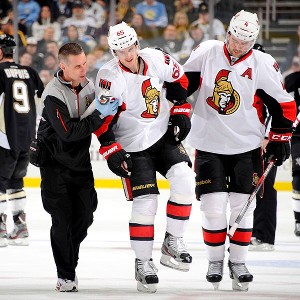 Wednesday night
Ottawa Senators
defenseman
Erik Karlsson
;s Achilles tendon was cut by Penguins forward
Matt Cooke
's skate blade as they fought along the boards in the second period.
Karlsson fell to the ice and attempted to skate away, but got only a few feet away before having to skate off the ice. He looked to be in a lot of pain and was clearly frustrated, throwing his stick against the board before heading to the locker room.
"You knew right away there was an issue," said Senators goalie Craig Anderson. "He is a player who is irreplaceable. It's unfortunate, but there are no words that can explain what we're feeling."
Senators captain Daniel Alfredsson added, "It's a tough blow. Obviously, the way he's playing, and how much he means to our team, it feels terrible and I feel really bad for him."
It was announced Thursday that Karlsson will need surgery to repair his left Achilles tendon. Cooke has been suspended several time for hits, some of which involved head shots that injured the players. In 2011 Cooke was suspended for the Penguins final 10 regular season games and the first round of Stanley Cup playoffs after hitting New York Rangers defenseman
Ryan McDonagh
in the head with his elbow.
Senators coach
Paul MacLean
said after the game, "We all know who's involved with it. That's just the way it is. The injury to Erik was unfortunate, and it happens on a nothing play that could've potentially been whistled down."
The
NHL's
department of player safety reviewed the incident and NHL disciplinarian
Brendan Shanahan
spoke with the general managers for both the Senators and the Penguins and there will be no hearing or disciplinary action against Cooke. "I feel horrible for Erik Karlsson, I feel bad for Ottawa," Penguins general manager
Ray Shero
told ESPN.com Thursday. "It's a bad feeling. But I can't rationalize where that was a dirty play or anything with intent. Our fan base knows how it feels to lose a star player. It's emotional. I know how it feels like. It's just very unfortunate. I would not be defending Matt Cooke if I thought it was a dirty hockey play."
What do you think? Dirty play or not?
If you are a hockey player and have a foot problem, call our Newington, Kensington, or Middletown office to make an
appointment
.
Craig M. Kaufman, DPM
Connecticut Foot Care Centers
Sports Medicine Podiatrist in CT
Podiatrist in Newington
Visit our website, friend and like our page on Facebook, and follow our tweets on Twitter.