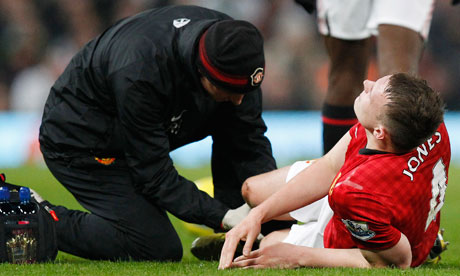 Monday night Nani was the star of Manchester United's 2-1 win over Reading during a FA Cup tie. The Portuguese winger came on, however, as a substitute after Phil Jones injured his ankle late in the first half.
The Englishman limped off the field, under his own power, but after the match was seen in a protective boot and crutches. This could be a precautionary measure and the severity of the injury is not known. After the match United manager Sir. Alex Ferguson said about Jones, "We will have to assess it in the morning. It's an ankle injury, so I would imagine he would not be ready for Saturday (away to Queens Park Rangers)- we will see what he is like after that."
Ferguson confirmed Thursday that Jones has an "outside chance" of being ready for the March 5th game against Real Madrid. Jones has been having intense treatment in the hopes of being available for the Old Trafford match.
"We're working very hard. He has an outside chance for Real Madrid- no more than that. He is a young man who went into a tackle too brave and was a bit off-balanced. He certainly won't be fit for the weekend," said Ferguson.
Captain Marvel Robson has warned Jones that he needs to curb his enthusiasm about tackling, or he will continue to get hurt. "Phil is a bit reckless and does dives into tackles he isn't favorite to win. There is nothing wrong with that but when you are not definite to win a challenge you have to accept that sometimes you don't go whole hog or at least protect yourself.
"His challenge against Reading was a poor one. He risked an injury because of the way he went in for that tackle. Technically, he got it wrong."
If you are a soccer player and have a foot problem, call our Newington, Kensington, or Middletown office to make an
appointment
.
Craig M. Kaufman, DPM
Connecticut Foot Care Centers
Sports Medicine Podiatrist in CT
Podiatrist in Newington
Visit our website, like our page on Facebook, and follow our tweets on Twitter.