Julius Randle, the No. 2 overall basketball recruit, will be sidelined for three months following a fractured foot. The big man from the Class of 2013 was forced to leave Prestonwood's game last Saturday against
Duncanville
at the Thanksgiving Hoops Fest with the foot injury. He did not return to the game.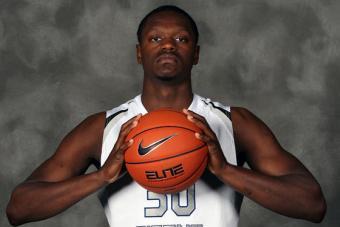 The day before Randle had already gathered 27 points and 13 rebounds in his first, and perhaps only game against Baton Rouge (La.) Madison.
His mom, Carolyn Kyles, told
USA Today
about her son's condition: "It's a minor setback, but Julius is a fighter. We've already begun to set up rehabilitation for him and he's a naturally a little down now, but he'll be back before you know it. We're just staying positive about everything. We know he'll come back stronger than ever."
It's likely Randle will drop in the Class of 2013 rankings because of the injury, but he already has offers from Kentucky, Florida, Kansas,
North Carolina State
, and several more.
This injury may keep Randle from regular school year games, but it won't be the last time we see him before college. His grandfather, Jeff Webster, told USA Today that Randle plans on being back for the postseason and summer games: "He'll be ready for the postseason all-star games if not sooner. It's all a part of the game. These things happen. Now the hard work begins, and it's a challenge for him. The doctor says three months, but he's the type of player that will work hard to be ready before that. We're not rushing anything, but we've got work to do."
Randle, a 6-foot-9, 240 lb. foward from Plano, TX who may be a lottery pick for the 2014 NFL draft.
If you are are suffering from a sports related foot injury, call
our Newington, Kensington, or Middletown office to make an
appointment
.
Craig M. Kaufman, DPM
Connecticut Foot Care Centers
Sports Podiatrist in CT
Podiatrist in Newington, Kensington, and Middletown, CT
Visit our website, friend and like our page on Facebook, and follow my tweets on Twitter.