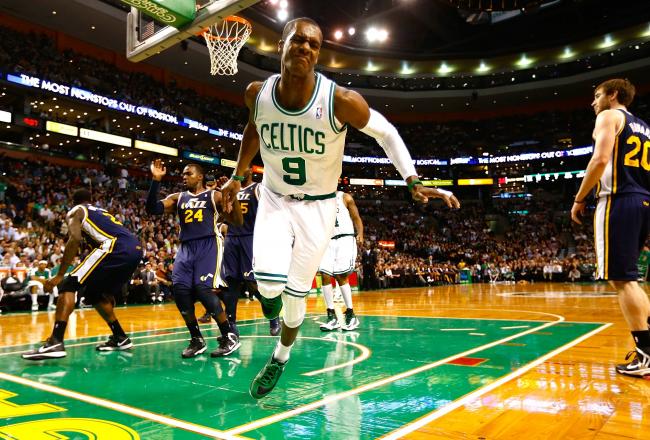 Rajon Rondo
suffered an ankle sprain Wednesday night in the
Celtics
' 98-93 victory of the
Utah Jazz
.
The Celtics' point guard was injured when he had his shot blocked by
Marvin Williams
with 4:55 left in the third quarter. He hobbled off to the bench and spent some time in the locker room before returning to watch the rest of the game from the sidelines.
Coach
Doc Rivers
did not have Rondo continue in the game because he felt "iffy" and said "I just felt like it is too early in the season to take that chance."
Leandro Barbosa
took Rondo's place, scoring 16 points on 6-for-8 shooting.
"It's going to happen," Rivers said. "He's not going to play all 82, I doubt. It'd be nice. You know how I think, guys, the next guy, just somebody has to step up and we have to figure it out. And tonight was a great example that we did that."
Rondo declined to talk to the media after the game. Previous to his injury, Rondo picked up his 10th assist, setting up
Paul Pierce
for a 3-pointer, extending his streak of double-digit assist games to 32, the third-longest in the
NBA
.
At the time of writing, it was unclear the extent of Rondo's injury, which could be cause for concern for the Celtics. Rondo was averaging 15.4 points, 12.9 assists, and 5.1 rebounds per game. He is playing at a very high level right now, averaging more than 40 minutes per game. He is currently listed as day-to-day.
If you are are suffering from a sports related foot injury, call
our Newington, Kensington, or Middletown office to make an
appointment
.
Craig M. Kaufman, DPM
Connecticut Foot Care Centers
Sports Podiatrist in CT
Podiatrist in Newington, Kensington, and Middletown, CT
Visit our website, friend and like our page on Facebook, and follow my tweets on Twitter.