FC Dallas
midfielder
Brek Shea
underwent successful surgery last Thursday to remove a
sesamoid bone
from his right foot. The operation is expected to keep Shea out of action for at least three months.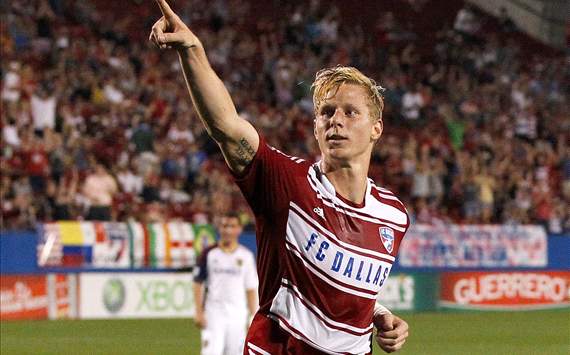 Shea had suffered an initial
turf toe
injury in Vancouver in April, and had been plagued by it all season. But according to head coach
Schellas Hyndman
they recently discovered something more serious was wrong.
"I think about a week ago they diagnosed that there was a split in one of the bones that's underneath his toe. I think it took an amount of wear and tear on it to show," said Hyndman.
"Once we presented that to him a couple days ago, our doctor looked at it and had confirmation from three other foot specialists that the best thing to do was to remove it. So we did that yesterday, and from everything I understand it was very successful."
Hyndman said the normal strategy for turf toe is to rest it, but when the injury kept bothering Shea six months later, the team realized there was something more than just a turf toe problem.
"If you've had plantar fasciitis, it is so painful and people will give you home remedies to take care of it and nothing works... finally it goes away, but it takes so long. This was one of those things that will not go away, not for a professional athlete."
The 22 year old had three goals and two assists in 21 games for FC Dallas before missing the final month with an abdominal strain from the foot injury. He had 11 goals in 2011 and was nominated for the
MLS MVP award
. Shea had 15 caps with the
U.S. National Team
, but missed two World Cup qualifiers with the injury. The final round of the World Cup starts in February, about the time Shea is expected to return.
Hyndman isn't looking to rush their burgeoning star back before he's ready and healthy, however.
"That's what we hope," Hyndman said about Shea returning for the preseason. "But the thing you never want to do is push and then all of a sudden he gets re-injured."
If you are are suffering from a sports related foot injury, call
our Newington, Kensington, or Middletown office to make an
appointment
.
Craig M. Kaufman, DPM
Connecticut Foot Care Centers
Sports Podiatrist in CT
Podiatrist in Newington, Kensington, and Middletown, CT
Visit our website, friend and like our page on Facebook, and follow my tweets on Twitter.