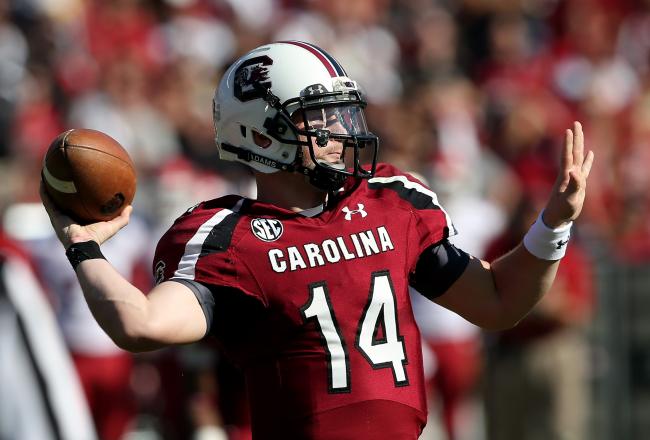 South Carolina starting quarterback Connor Shaw will miss spring training after having surgery on his left foot last Friday. Team physician Dr. Jeffrey Guy said the surgery for a left foot sprain was successful, but he will not be ready for spring training practices.
Shaw injured his foot in a victory over Tennesse on October 27th and sat out the final game against Clemson. He played in the Outback Bowl and reaggravated the sprain in the 33-28 win against Michigan. The junior quarterback was having a great game prior to the reinjury. He completed 18 of 26 pass attempts for 224 yards and two touchdowns. He totaled 96 rushing yards, including one for 64 yards. Shaw left the game with the Gamecocks trailing with minutes left in the game.
Dylan Thompson was able to replace Shaw and throw a 32 yard pass for a touchdown, securing South Carolina's win. For the season Shaw threw 1,956 yards in 11 games with 17 touchdowns and a 158.1 efficiency rating.
"We tried to tell Connor it was his game, and it was his game, but Dylan was going to play. It worked out beautifully as it turned out," said coach Steve Spurrier.
With Shaw potentially out for the fall as well Thompson will get more reps with the first team. Spurrier plans on having both Shaw and Thompson ready for next season.
If you are a football player and have a foot problem, call our Newington, Kensington, or Middletown office to make an
appointment
.
Craig M. Kaufman, DPM
Connecticut Foot Care Centers
Sports Medicine Podiatrist in CT
Podiatrist in Newington
Visit our website, like our page on Facebook, and follow our tweets on Twitter.