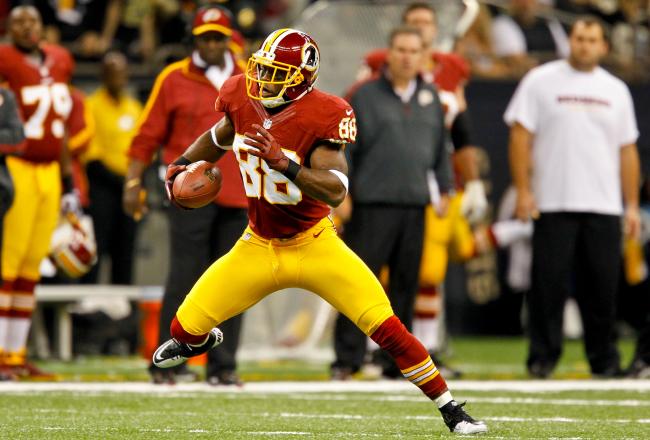 The
Washington Redskins
' season has ended, so now is the time to recuperate, rest injuries, and have surgery if need be.
Pierre Garcon, who tore the plantar plate in his second toe of his right foot, has still not made a decision if he will have surgery to repair the tear or not. A source close to Garcon says that he is focusing on resting the foot, but should make an official announcement in a few weeks. Coach
Mike Shanahan
said that Garcon would speak with additional specialists and seek other options before making a decision.
Garcon has never had surgery before and is reportedly "not keen" on having the surgery, which has a recuperation time of three to four months and does not always fix the problem. He tore the plantar plate in the season opener against New Orleans and missed six games, but still finished with a team high of 633 yards and four touchdowns on 44 catches. He had a 14.4 yards per catch average, which was still the second highest average in his five seasons playing professionally.
With the tear in his plantar plate, Garcon was unable to push off at the line of scrimmage, which impacted his ability to dig his foot into the ground and cut. He tried returning after two games but was ineffective and told by medical staff to avoid weight on his foot.
If you are a football player and have a foot problem, call our Newington, Kensington, or Middletown office to make an
appointment
.
Craig M. Kaufman, DPM
Connecticut Foot Care Centers
Sports Medicine Podiatrist in CT
Podiatrist in Newington
Visit our website, friend and like our page on Facebook, and follow our tweets on Twitter.