Pierre Garcon, Washington Redskins wide receiver, is still struggling with a foot injury he sustained in the season opening victory against New Orleans.
In that game, Garcon recorded four catches for 109 yards, including an 88 yard touchdown. On that play, Garcon injured his right foot, straining it near the ball of his foot. He had to leave the game after only eight plays. X-rays revealed no breaks in the bone, but Garcon missed the next two games and returned to action against Tampa Bay in Week 4. At the time coach Mike Shanahan described the injury as turf toe, saying his return to play would depend on Garcon's pain tolerance.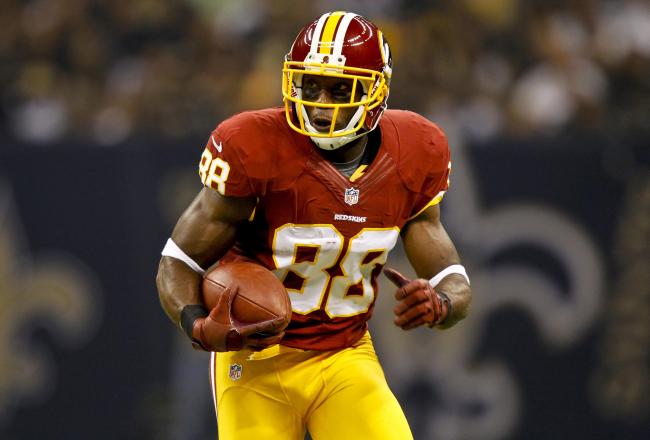 Garcon had just signed and become the Redskins' biggest free agent acquisition of the offseason, signing a five year, $42.5 million contract with $21.5 million guaranteed.
Garcon started two games after missing two, but hadn't regained the big-play form seen in Week 1. In those two games he recorded just four catches for 44 yards. After those games Shanahan said, "He's battling it, I can tell. You can see him on the practice field and stuff and in the game that it hurts him to run. He has a lingering foot problem and it does hurt him. He's been able to play through it here in the past couple of weeks and it helps us having him out there, but no, I don't think he's 100%. I appreciate him battling through it and being out there for us. I just hope that each week it gets better."
Last Sunday Garcon missed his fourth game of the season because of his injury, which is an inflamed capsule in the second toe on his right foot. USA Today reported there was a tear in the tendon of the toe, but Shanahan denied that. "No. It's the same thing that it has been. No change."
Garcon has received several shots in the area, but has not seen any noticeable change. The Redskins haven't put a timetable on Garcon's return, but those with knowledge of the situation have told the press they don't expect him back for at least four weeks.
"He's not running any routes, he's not working out. He's getting treatment. We're hoping that staying off it for a week, that it's much improved. I can't tell you anything for sure, though," Shanahan said.
Garcon was diagnosed with a plantar plate tear in his right foot last Wednesday. The plantar plate is a soft tissue structure that connects the base of the toe to the metatarsal, cushioning the bottom of the metatarsal head, which is why Garcon was experiencing significant pain when he pushed off to sprint.
The Redskins return from an off week on November 18th, and they may try to bring Garcon back for then. Shanahan says, "It could very well happen that way, but... we don't know what's going to happen with Pierre. I'm taking this day by day, listening to the doctors, see what they recommend, and obviously I'm not going to force somebody to play if the doctors don't think he's ready or... Pierre doesn't feel like he's ready."
Garcon saw foot specialist Dr. Robert Anderson after the injury was not getting any better. "He was sore when I talked to him Tuesday," Shanahan said. "He said it hadn't improved at all. He went swimming, they put him in a pool, and it didn't even improve in that area. Just for peace of mind I said 'Hey, why don't you go talk to a specialist?'... You get the chance to go one-on-one and see what he says and hopefully something positive comes out of it."
If you are are suffering from a football related foot injury, call
our Newington, Kensington, or Middletown office to make an
appointment
.
Craig M. Kaufman, DPM
Connecticut Foot Care Centers
Sports Podiatrist in CT
Podiatrist in Newington, Kensington, and Middletown, CT
Visit our website, friend and like our page on Facebook, and follow my tweets on Twitter.