It has been confirmed Chinese hurdler Liu Xiang will have surgery to repair his ruptured
Achilles tendon
in Britain.
Liu shot to fame after he won gold in the 110 meter hurdles in Athens in 2004. He was also the 2011 World Champion silver medalist.
Oddly enough, an Achilles tendon injury forced Liu out of the
Beijing Olympics in 2008
as well. Liu stumbled over the first hurdle on Tuesday morning, fell to the track, staying down for a few moments clutching his lower right leg. He got up and tried to head to the nearest exit but was pointed back to the race area. Liu managed to make it to the finish line the only way he could: by hopping on one leg. He hopped along the backstretch on his left leg, the injured right leg under him, then finally made it to the 10th and final hurdle, giving it a kiss.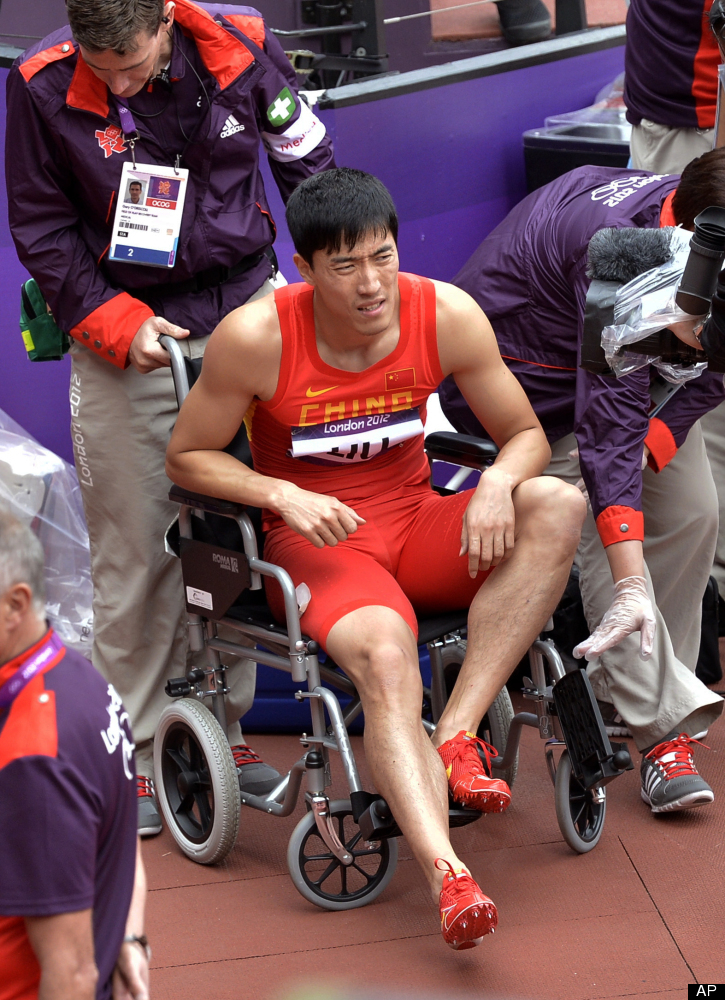 Balazs Baji of Hungary held up Liu's hand in the air, as if to signify that he was the true winner of the race. "I respect him. I like him," said Baji, fifth in their heat. "It must be really bad for him. I'm really sorry. I didn't say anything. I just couldn't say anything."
Britain's Andrew Turner and Spain's
Jackson Quinonez
helped Liu into a waiting wheelchair so he could be taken away from the track. "I wouldn't wish that on my worst enemy," said Turner, who won the heat. "I rate him as one of the best hurdlers we've had in the world, ever. I don't like to see that kind of thing."
In 2008 Liu's Olympics ended in two strides, withdrawing in a preliminary round with right foot and hamstring injuries, disappointing a country of 1 billion people.
Liu is China's only track and field superstar, endorsing shoes, cars, and other products.
Liu's rivalry with 2008 Olympic champion
Dayron Robles
of Cuba was supposed to be one of the highlights of the track schedule.
Aries Merritt
, who won gold in the 110 meters said "In the hurdles, if you hit a hurdle, to recover is almost impossible. Everyone here is so great- this is the
Olympic games
. Everyone is here to compete. It's just a shame that it happened to Liu. I was looking forward to competing with him."
Spokesman Du Zhaocai says of Liu's surgery, "The doctor is an expert and has done operations on many famous players like David Beckham."
If you are a hurdler and have been experiencing pain, call our Newington, Kensington, or Middletown office to make an
appointment
.
Craig M. Kaufman, DPM
Connecticut Foot Care Centers
Sports Medicine Podiatrist in CT
Podiatrist in Newington
Visit our website, friend and like our page on Facebook, and follow our tweets on Twitter.